Date:
Tuesday, November 17, 2020 - 6:00pm
Topic:
Historically, fraud detection and cybersecurity have been separate disciplines with unique objectives and approaches. But as criminal organizations seek to take advantage of online tools for fraudulent campaigns, they've created integrated techniques that encompass elements of both domains. Therefore, professionals charged with defending corporate networks and assets must also come together to defend against these shared adversaries. Increasingly, preventing criminals from using corporate platforms for illegal activity has become the responsibility of infosec teams who traditionally focused exclusively on data protection. This requires companies to adopt a new approach that combines digital insights from infosec with behavioral gaps identified by fraud investigations.  
This talk will provide insights from experience in both laundering investigations and cybersecurity to address the most prevalent and damaging cybercrime threats to companies -- and how to defend against them. 
How do we prevent our company from being used for criminal gain? What obstacles prevent us from identifying bad actors and what can we learn from our adversaries to create an infosec/fraud defense collaboration? 
Learning Objectives:
How information security professionals and fraud investigators can work together to build defense and resilience against shared adversaries. 
Techniques for recognizing cybercrime patterns and behaviors that incorporate elements of ransomware, laundering, cyber attacks, and email compromise. 
How infosec teams can shift away from a "cost center" mentality to deliver monetary value to their organizations. 
Speaker: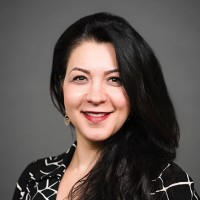 Faranak Firozan
Faranak is an experienced incident commander and investigator, who built the Post Incident Review Program for Uber. Her mission is helping the security industry rediscover the forgotten phase of incident reviews and extracting important learnings into the incident cycle to avoid repeated attacks. Throughout her career, Faranak has also led anti-money laundering initiatives for private banks and wealth management firms, managed incident response, and developed a unique approach to address the converging fields of financial fraud and traditional information security.