Date:
Tuesday, November 16, 2021 - 6:00pm
Topic:
Do‌ ‌you‌ ‌want‌ ‌to‌ ‌know‌ ‌how‌ ‌to‌ ‌build‌ ‌a‌ ‌top-ranked‌ ‌competitive‌ ‌security‌ ‌team?‌ ‌I‌ ‌don't‌ ‌mean‌ ‌some‌‌
sort‌ ‌of‌ ‌certification‌ ‌--‌ ‌I‌ ‌mean‌ ‌a‌ ‌team‌ ‌of‌ ‌master‌ ‌hackers‌ ‌who‌ ‌can‌ ‌bend‌ ‌systems‌ ‌to‌ ‌their‌ ‌will‌ ‌to‌‌
achieve‌ ‌any‌ ‌objective.‌ ‌
‌
It's‌ ‌all‌ ‌about‌ ‌the‌ ‌system.‌ ‌In‌ ‌sports,‌ ‌we‌ ‌understand‌ ‌systems‌ ‌that‌ ‌coaches‌ ‌can‌ ‌use‌ ‌to‌ ‌build‌ ‌a‌‌
system‌ ‌for‌ ‌identifying‌ ‌talent,‌ ‌recruiting‌ ‌them,‌ ‌training‌ ‌them‌ ‌up,‌ ‌and‌ ‌competing‌ ‌in‌ ‌big‌ ‌games.‌‌
Learn‌ ‌our‌ ‌proven‌ ‌system‌ ‌for‌ ‌building‌ ‌an‌ ‌elite‌ ‌team‌ ‌of‌ ‌hackers‌ ‌that‌ ‌we've‌ ‌maintained‌ ‌for‌ ‌over‌ ‌a‌‌
decade.‌ ‌It's‌ ‌surprisingly‌ ‌easy,‌ ‌but‌ ‌not‌ ‌what‌ ‌you'd‌ ‌think.
Speaker: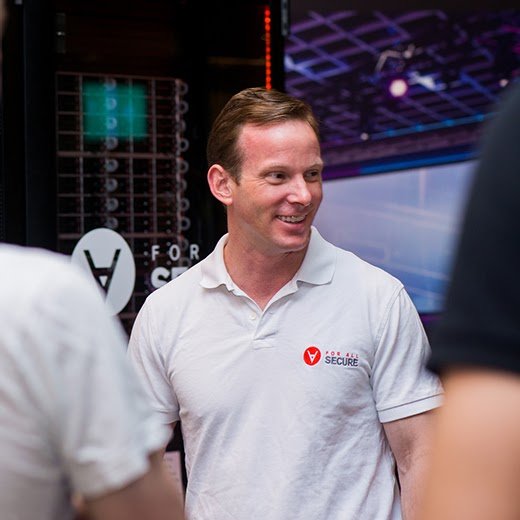 David‌ ‌Brumley:
ForAllSecure‌ ‌CEO‌ ‌David‌ ‌Brumley‌ ‌received‌ ‌his‌ ‌PhD‌ ‌in‌ ‌Computer‌ ‌Science‌ ‌from‌ ‌Carnegie‌ ‌Mellon‌‌ University,‌ ‌MS‌ ‌in‌ ‌Computer‌ ‌Science‌ ‌from‌ ‌Stanford‌ ‌University,‌ ‌and‌ ‌a‌ ‌BA‌ ‌in‌ ‌Mathematics‌ ‌from‌ ‌the‌‌ University‌ ‌of‌ ‌Northern‌ ‌Colorado.‌ ‌Brumley‌ ‌is‌ ‌a‌ ‌tenured‌ ‌Professor‌ ‌of‌ ‌Electrical‌ ‌&‌ ‌Computer‌‌ Engineering‌ ‌at‌ ‌Carnegie‌ ‌Mellon‌ ‌University,‌ ‌and‌ ‌was‌ ‌Director‌ ‌of‌ ‌the‌ ‌university-wide‌ ‌security‌ ‌and‌‌ privacy‌ ‌institute.‌ ‌Brumley‌ ‌is‌ ‌the‌ ‌author‌ ‌of‌ ‌over‌ ‌50‌ ‌publications‌ ‌in‌ ‌computer‌ ‌security‌ ‌and‌ ‌has‌‌ received‌ ‌numerous‌ ‌awards,‌ ‌including‌ ‌the‌ ‌US‌ ‌PECASE‌ ‌award‌ ‌from‌ ‌President‌ ‌Obama,‌ ‌the‌‌ highest‌ ‌award‌ ‌in‌ ‌the‌ ‌US‌ ‌for‌ ‌early‌ ‌career‌ ‌scientists‌ ‌and‌ ‌engineers.‌‌ ‌ ‌ In‌ ‌2012,‌ ‌Brumley,‌ ‌along‌ ‌with‌ ‌his‌ ‌graduate‌ ‌students‌ ‌Athanasios‌ ‌Avgerinos‌ ‌and‌ ‌Alexandre‌‌ Rebert,‌ ‌co-founded‌ ‌ForAllSecure‌ ‌with‌ ‌the‌ ‌mission‌ ‌to‌ ‌secure‌ ‌the‌ ‌world's‌ ‌critical‌ ‌software.‌ ‌In‌‌ 2016,‌ ‌ForAllSecure‌ ‌went‌ ‌on‌ ‌to‌ ‌win‌ ‌the‌ ‌DARPA‌ ‌Cyber‌ ‌Grand‌ ‌Challenge‌ ‌with‌ ‌Mayhem,‌‌ ForAllSecure's‌ ‌autonomous‌ ‌cyber‌ ‌security‌ ‌system.
Location:
Meeting link to be provided upon RSVP